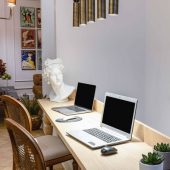 Lyudmila G.
The place is wonderful: design, people,service. It is located in beautiful street of European style between Galata tower and Istiklal street.
The hotel it brand new, made in European style with gorgeous details: real orchids in corridor,air cleaner, aromatizer on each floor. Cold welcome drinks and wet towels help you after long trip.
We have our honeymoon and manager Lala (who speaks russian really good) make our staying here unforgettable.
The room is very clean, modern with interesting bathroom( it doesn't have a wall, but glass partition). All bathroom set and cosmetics is inclufed. We would like recommend to add hangers for towels inside. That is all, really!